About Piece Fest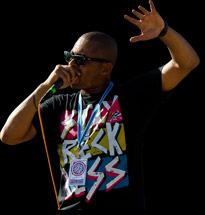 Piece Fest 2012 Host: KEV HICKS
The Vet. Kev Hicks has been on the underground hip hop scene for many years; half of the group Mannish and later dropping singles with Dialated Peoples as the Artist 13. Now half of the group "Apartment Sick," his range of writing is unlimited from R&B, hip-hop to pop, etc. Kev recently appeared on the Joe A. Goodman single "Blacked Out" as well as the Tru Retro Single "Passed out" featuring Nipsey Hussle. Mr. hicks has been hard at work in the studio recording his solo album due out in the summer of 2013.
Welcome to LA's MUSIC & STREET-ART FESTIVAL featuring a Graffiti Battle! We are bringing together some of LA's hottest new bands and most talented street artists to celebrate this burgeoning artistic movement.
Our first event took place on October 13th, 2012 at The Graff Lab, an urban sanctuary for artists, kids, and young adults that opened after the Los Angeles public school district cut its after-school art programs in 2006. World famous for its graffiti and aerosol art, the Graff Lab is dedicated to providing artists with a safe space to develop their skills. At the Graff Lab artists don't have to worry about feeling harassed; they are free to concentrate on their craft. But the Graff Lab is more than a public art space. The Graff Lab offers free tutoring, counseling, dance & music lessons to adults and kids.
For a complete listing of the lineup for 2012 please click here.
To inquire about how to submit a band or performer for the 2013 lineup, please click here.