"The Chosen One" 2012 Battle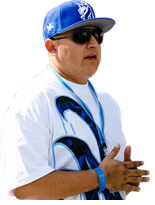 For Abel, it wasn't an easy success story. As a child, he grew up in a rugged section of Los Angeles, California, and at a very young age he would witness not only the rough and tumble streets, but also find himself void of a beloved brother who fell victim to that same violence. But this is when Abel's tragedy literally turned into triumph, as he felt empowered by his love for his brother to carry on his dream to be an artist. "I feel as if he lives through me," says Abel. "I feel like he's always right here besides me when I create and if anything he was a much better artist than I was.
This passion to realize his brother's dream has taken Abel on a 180-degree turnaround. From being a troublemaker to getting into school, this artist has turned his life around for the better. He attended Los Angeles Trade Tech to take courses in graphic design and he's turned his hobby into a business, which has him working alongside some of the world's most power brands. From Fiat, Lowrider Magazine to Tribal and Converse. Abel is taking the world by storm and literally scaring the competition.
For more info & to shop OG Abel's line of merchandise please visit www.ShopOGAbel.com.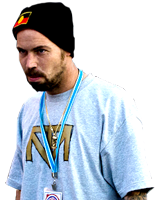 From the age of 14, R.J.'s designs and illustrations have been used by the big name brands. From large scale commercial campaigns to skate and snowboard designs, R.J.'s artwork has made it to the big show! As a sponsored snowboarder with direct access to some of the biggest names in the sport, R.J. quickly got snapped up to put his creative genius to work. In 2009, together with his Business partners John Saulo and Nathan Ho, R-J formed Westsyde Connection - a skate shop, art studio & gallery.
These days R.J. spends a lot of time with his aerosol can. He has painted for countless live events and shows in 2012, namely "Black or White" and "Man Up" at Ambush Gallery, "Sidewayz" at Global and "Piece Fest" at Graff Lab in Los Angeles.
R.J.'s persistent efforts to remain active in the street scene have allowed the media to capture his unexpected and somewhat controversial stunts. His urban-culture-referenced murals across Sydney and Los Angeles have not gone unnoticed. His branded walls in Newtown, Surry Hills and Bondi have led the pack, along with his paintings for Saatchi & Saatchi, Google Earth and Blackberry.
R.J.'s artistic credibility is undeniable and is the go-to guy for all things street art. He has big plans over the next couple of years, namely to work amongst the artist community, curating collections with multiple artists in international endeavors & aerosol art.
For more info & to shop The Massive's line of merchandise please visit www.WestSydeConnection.com.