About "The Chosen One" TV Show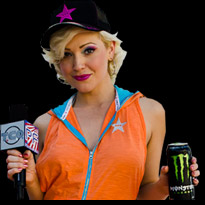 "The Chosen One" 2012 Host: JESSICA "Sugar" KIPER
Jessica "Sugar" Kiper has appeared on such television shows such as Weed's, Gilmore Girls, and played the role of Simon Baker's bachelor party "entertainer" in the movie Sex and Death 101. She is best known as "Sugar" the Retro Pinup model from two Seasons of Survivor and her recent stint on Celebrity Rehab.
From Executive Producer David Arquette comes a graffiti based Battle created by world famous graffiti artist Kelly 'Risk' Graval & Corin Nemec currently titled 'THE CHOSEN ONE'. TCO is a Street Art competition that challenges two or more artists to incorporate a Major Commercial Brand, the pilot shall be Java Monster's Logo, in a mural using their specific style. The competition will take place at Piece Fest, modeled after other Street Art & Music Festivals.
Click here to find who will be our Judges to decide the next Chosen One.
Click here to find which artists will be competing in the battle for The Chosen One.
Click here to submit yourself to compete in the next battle for The Chosen One in 2013.